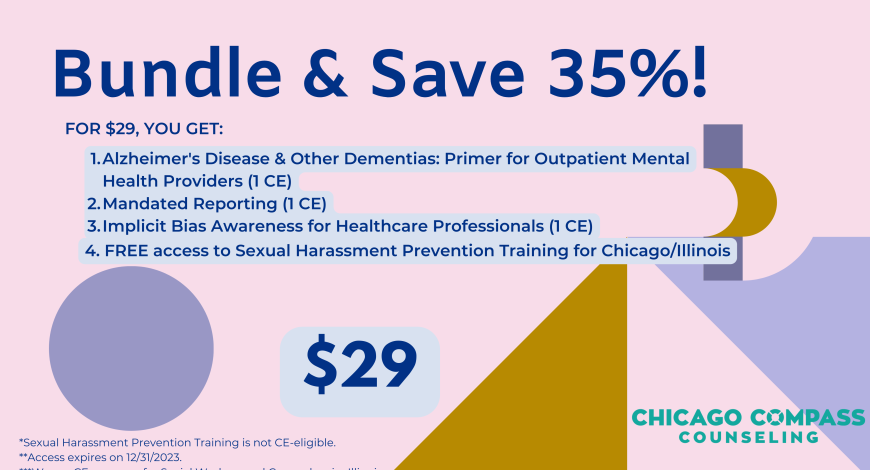 Illinois Social Workers and Counselors: Our CE Renewal Bundle is Here!
If you're a Social Worker or Professional Counselor in Illinois, 2023 is the license renewal year. And this year there are some new requirements. Specifically: 
Mandated reporter training with an implicit bias component
Implicit bias training
Alzheimer's and other dementias training
We're here to help!
Now for only $29, you can get all three of our CE courses plus access to our free (non-CE) sexual harassment prevention training for Chicago/Illinois. 
What makes our training different? You get access to all these classes on our easy and intuitive Teachable platform, where you can complete them on your own time. You will automatically receive a certificate when you complete the course and knowledge check questions.
You can also buy each course individually for $15. But we want to make these workshops accessible, so we're offering all three for $29. 
100% of the proceeds from purchasing these courses will go to our team's Racial Accountability Fund. This is a fund by and for our clinicians and specifically goes towards resourcing our Clinicians of Color and white clinicians in our commitment to anti-racist practice. We believe in the importance of community and reciprocity. By helping you take care of your CEs, we are grateful that you are helping us stay aligned with our anti-racist commitment. 
Sign up today. Access to these courses lasts through the end of this calendar year, through December 31, 2023. 
Thank you, and happy renewal year! 
Get the bundle (eligible for 3 CEs): https://chicago-compass-staff.teachable.com/p/ce-renewal-bundle
Individual Courses (a la carte, eligible for 1 CE each):
Implicit Bias for Healthcare Professionals: https://chicago-compass-staff.teachable.com/p/implicit-bias-awareness-for-healthcare-professionals
Alzheimer's Disease and Other Dementias: Primer for Outpatient Mental Health Practitioners: https://chicago-compass-staff.teachable.com/p/alzheimer-s-disease-and-other-dementias-primer-for-outpatient-mental-health-practitioners
Mandated Reporter Training: https://chicago-compass-staff.teachable.com/p/mandated-reporter-training